Information
Links / Liens
Nous sommes un club bilingue!
Le club St-Lawrence Toastmasters est un club bilingue à Montréal. Nos réunions hebdomadaires se déroulent en français et en anglais.
We are a bilingual club!
Located in downtown Montreal, St-Lawrence Toastmasters is a bilingual club. All meetings are held in both English and French.
A message from our Toastmasters 2020 Conference Chair:
Dear Members of District 61,


Following our 2020 District 61 Annual Conference, we are delighted to invite you to Beyond the Conference, for a series of 10 Workshops. These insightful workshops will help you learn, grow & lead… at Toastmasters and beyond – starting 2020-05-12!


These workshops will be in English or French and held online via Zoom. The Zoom link for this Toastmasters District 61 event is https://tinyurl.com/ya4cwaza

We look forward to seeing you online!
———————————————–
(Attendance is free of charge.
Click for a larger version of the schedule.)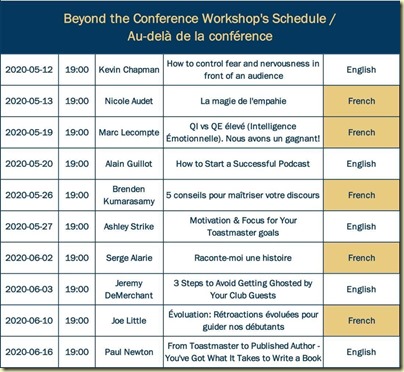 Invité à l'émission Parasol et gobelets de Radio-Canada, le journaliste et animateur Jean-Luc Mongrain partage quelques trucs pour ceux qui craignent de prendre la parole en public.
Il croit que les Québécois en général ont peur de la prise de parole.  Si c'est en effet votre cas, Toastmasters pourrait vous aider à vaincre cette peur.
Aimeriez-vous en savoir plus? Venez nous visiter.
Voici le programme Toastmasters pour la réunion du 4 juin 2019.
As Toastmasters, some of the things that we'll find fascinating is how eloquently politicians can speak in public.  Regardless of our own political convictions, it can always be interesting to see what tools and techniques are used in a speech to make it more enjoyable to listen to.
Here, for example, is a speech by Pete Buttigieg, one of the USA presidential candidates for 2020. As mayor of South Bend, Indiana, he gave this speech at a TEDx Talk in early 2015.
Some of the techniques used in his speech include:
What other techniques have you noticed him using?
————————–
Are you interested in learning about techniques that can help you prepare more effective speeches? Come visit the St-Lawrence Toastmasters Club in Montreal.
Here is the programme for the meeting of May 14, 2019.
Un des buts des Toastmasters est de nous permettre d'apprendre à donner des discours bien structurés, inspirants, et même émouvants. 
Voici un exemple d'un discours qui semble accomplir ces trois objectifs (le lien s'ouvrira dans une nouvelle fenêtre) :
Le poignant discours de Virginie (Le Grand Oral)
« Je suis devenue avocate parce qu'on m'a dit que c'était impossible. ».  Virginie Delalande, a ému le jury du "Grand oral", un concours d'éloquence présenté à la chaîne de France 2, en racontant son parcours d'avocate atteinte de surdité.
"Je vous parle avec une voix. Cette voix, qui peut-être vous dérange, vous met mal à l'aise, c'est une voix que moi-même je n'ai jamais entendue. C'est le fruit de 20 ans de travail. 20 ans d'orthophonie, trois fois par semaine", a-t-elle expliqué de manière sensible pour commencer son discours.
____________________
Aimeriez-vous apprende à donner des discours plus inspirants? Venez visiter le club d'art oratoire à Montréal St-Lawrence Toastmasters.
Voici le programme pour la réunion Toastmasters du 7 mai 2019.
Our club (St-Lawrence Toastmasters Montreal) is part of Toastmasters District 61, which support all clubs within the district in achieving excellence. One of the recent great ideas they have put in place is to provide webinars as a powerful training option.
Here is a recording of one of their English webinars published a couple of months ago :
Webinar – Secret Sauce of Evaluation – Todd Gatien
Many members, new and old, find evaluations daunting because they lack structure and feel they have nothing to offer the speaker. This is not true.
This webinar focuses on how to deliver well-designed evaluations to help the speaker, the audience, and the evaluator to grow in confidence.
You can find more webinars available on Toastmasters District 61's YouTube channel.
——————-
Come visit us to see how we do evaluations at our club.
Here is the programme for the meeting of April 30, where we will have a speech extravaganza (i.e. 5 prepared speeches instead of the customary 3 speeches of a regular meeting). You will therefore have the chance to see at least 5 evaluations (as well as a general evaluation of the meeting).
"You're scheduled to give a speech in a week or two. You're sitting at your computer, staring nervously at a blank screen. Countless questions swirl around in your mind: How should I start? How do I get the audience's attention? Should I use humor? Do I need an outline? How do I conclude?
As a Toastmaster, you have access to resources galore. Each speech project has its own templates and guidelines. You also have mentors to help you over hurdles. But wouldn't it be nice to have a quick, handy guide to all the basics? A one-stop shop that concisely covers the fundamentals of how to write an effective speech—Speechwriting 101, condensed into a few magazine pages?"
You can read more in the October 2018 issue of Toastmaster magazine, a monthly magazine available to all members.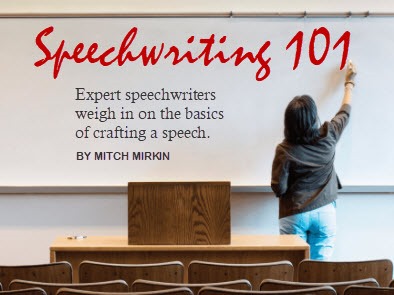 If you want a friendly and safe environment in Montreal where you can practice giving a speech, then Toastmasters meetings are a perfect medium.  Come visit the St-Lawrence Toastmasters Club in Montreal to find out more.
—————
Here is the programme for the meeting of October 23, 2018.
One of the many skills that we get to develop at Toastmasters is the ability to prepare and deliver powerful speeches that can inspire an audience, and even persuade with power so that people will want to take action.

Here is Harrison Ford speaking at the Global Climate Action Summit that took place in San Francisco recently.
(From: NowThis. Full speech can be found here or here.)
If we focus on the content of the speech, we notice that he inspires the audience by appealing to noble motives and challenging the audience to achieve a higher level of beliefs or achievement. He does this, for example, by speaking with passion and by using logic and emotion to support his position. Here are some excerpts:
"You're here, I'm here, because we care. Not just for today. But we care passionately for the future."

"While you work to recognize the challenge of climate change, I beg you, do not forget nature. Because the destruction of nature today accounts for more global emissions than all of the cars in the world. We can put solar panels on each and every house. We can even turn every car into an electric vehicle. As long as Sumatra burns we'll have failed."

"Nature doesn't need people; people need nature."
—————-
Would you like to know more about how Toastmasters can help you be a more effective speaker and a stronger leader? Feel free to come visit us.
Here is the programme for the St. Lawrence Toastmasters Montreal meeting of September 25, 2018.
Welcome back to the St. Lawrence Toastmasters Club in Montreal! After a well-deserved and relaxing summer break, our club meetings are now back in session.
We meet every Tuesday evening from 7 PM to 9:05 PM.
How can Toastmasters help you to become a more effective public speaker and a stronger leader?  By helping you to develop your presentation skills and giving you a safe environment in which to practice.
Here is an example of the sort of advice that you might get from attending a Toastmasters meeting.  This is a short video by Simon Sinek, a renowned TED Talk speaker, where he shares some of his best advice about how to begin your presentations.
"The best way to do it is to start with some sort of story, metaphor or analogy that captures the idea that you're going to be presenting about. […] A story that is emblematic of the end result."
---
If you'd like to find out more about how Toastmasters can help you improve your public speaking skills, then don't hesitate to come visit us!
Here is the programme for the meeting of September 4, 2018.
Have you ever watched someone give a presentation with his hands clutched as if he wanted to cover his privates?  Or perhaps you've seen a speaker talking with her hands in her pocket, or with her hands on her hips? 
Such stances can make a speaker seem nervous, less confident, insecure, too casual, or even aggressive, depending on the body language that is projected.
Here is a video from Dananjaya Hettiarachchi (2014 Toastmasters International world champion of public speaking) revealing four essential body language tips.
Are you interested in seeing how you can improve your public speaking skills and even gain new ones?
Then visit the Saint-Lawrence Toastmasters Club, a bilingual Toastmasters Club in Montreal.
Here is the programme for the meeting of May 22, 2018.
Older Posts »