Information
Links / Liens
Nous sommes un club bilingue!
Le club St-Lawrence Toastmasters est un club bilingue à Montréal. Nos réunions hebdomadaires se déroulent en français et en anglais.
We are a bilingual club!
Located in downtown Montreal, St-Lawrence Toastmasters is a bilingual club. All meetings are held in both English and French.
Come meet us at St. Lawrence Toastmasters Club so see how our meetings unfold. See how our members learn to communicate more effectively in Montreal. Improve your presentation skills in Montreal. Organize your speech. Increase your leadership potential in Montreal.

WHERE :
Restaurant L'Ambroisie
(in the private conference room)
4030 St-Ambroise, suite 140
(in the west wing of the building)
Montreal, Quebec, H4C 2C7
WHEN :
Tuesday evenings from 7:00 to 9:05 PM
We suggest you show up around 6:45 PM.
Please Note
Doors will close at 7:00 PM to avoid disruptions due to tardy arrivals.
Should you arrive late, then please wait for 7:15 PM when we will re-open the doors (or otherwise you will need to wait till 7:35 PM when we open them again).
COST :
The price for a meeting attendance is $10. Cost includes one non-alcoholic beverage, as well as raw vegetables with dip.
À la carte meals also available before and after the meeting.

PARKING :
– Free (and ample) street parking.
– There is also a parking lot on the premises in the back of the building complex. The cost is $5 after 5 PM, other rates apply before 5 PM.
MEMBERSHIP :
After visiting us, if you wish to become a member, please consult our membership page for additional information.
DIRECTIONS :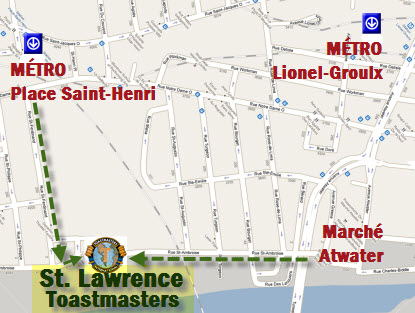 Click to view photo of building in larger size.

Click to view building entrance in larger size.
USEFUL LINKS:
Find St-Lawrence Toastmasters on Google Maps
Posted on: 21st of November 2008 in