Information
Links / Liens
Nous sommes un club bilingue!
Le club St-Lawrence Toastmasters est un club bilingue à Montréal. Nos réunions hebdomadaires se déroulent en français et en anglais.
We are a bilingual club!
Located in downtown Montreal, St-Lawrence Toastmasters is a bilingual club. All meetings are held in both English and French.
"You're scheduled to give a speech in a week or two. You're sitting at your computer, staring nervously at a blank screen. Countless questions swirl around in your mind: How should I start? How do I get the audience's attention? Should I use humor? Do I need an outline? How do I conclude?
As a Toastmaster, you have access to resources galore. Each speech project has its own templates and guidelines. You also have mentors to help you over hurdles. But wouldn't it be nice to have a quick, handy guide to all the basics? A one-stop shop that concisely covers the fundamentals of how to write an effective speech—Speechwriting 101, condensed into a few magazine pages?"
You can read more in the October 2018 issue of Toastmaster magazine, a monthly magazine available to all members.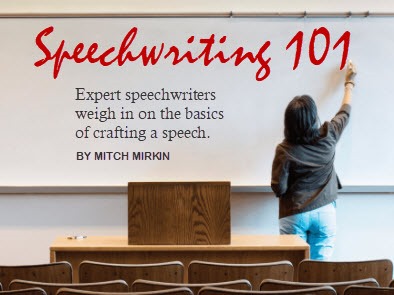 If you want a friendly and safe environment in Montreal where you can practice giving a speech, then Toastmasters meetings are a perfect medium.  Come visit the St-Lawrence Toastmasters Club in Montreal to find out more.
—————
Here is the programme for the meeting of October 23, 2018.