Information
Links / Liens
Nous sommes un club bilingue!
Le club St-Lawrence Toastmasters est un club bilingue à Montréal. Nos réunions hebdomadaires se déroulent en français et en anglais.
We are a bilingual club!
Located in downtown Montreal, St-Lawrence Toastmasters is a bilingual club. All meetings are held in both English and French.
Nous avons eu une autre magnifique soirée lors de notre réunion Toastmasters cette semaine.
Tout d'abord, bienvenue à Sébastien!
Cela nous fait plaisir d'accueillir Sébastien comme nouveau membre de notre club. Il se joint à Toastmasters car il aimerait augmenter sa confiance lorsqu'il s'exprime en devant des gens.
Soirée des Oscars
Félicitations aux lauréats!  C'était la soirée des Oscars du Club St. Lawrence Toastmasters à Montréal, où plusieurs prix ont été décernés.
Toastmaster de l'année : Pietro di Benedetto
Toastmaster qui s'est le plus améliorée : Chantal Lamontagne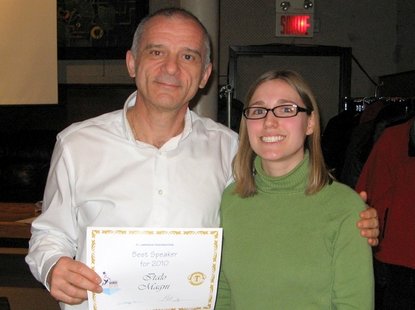 Le plus de discours gagnés durant l'année : Italo Magni
Le plus d'improvisations gagnées durant l'année : Jacques Lamontagne
Le plus d'évaluations gagnées durant l'année : Alex Chan et Italo Magni
Le plus d'étincelles gagnées durant l'année : Mathieu Savage, Pietro DiBenedetto et Chantal Lamontagne
Le plus de bullshooters reçus durant l'année : Pietro Di Benedetto
Merci à notre VP Éducation, Véronique Sangin-Gagnon, pour avoir décerné les prix ce soir-là.
En plus de cela, nous avons eu droit a des discours exceptionnels incluant le brise-glace de Nicholas ("Why not… sell your soul to the devil"), un discours animé et émotionnel de Jacques concernant sa récente opération, et un discours éducatif de Christian sur comment préparer une introduction efficace pour un discours.
Finalement, quelques invités nous ont confirmé leur désir de se joindre a notre club Toastmasters, et ce sera donc avec plaisir que nous les accueillerons formellement comme membres la semaine prochaine. Au prochain mardi soir!
Posted on: 26th of February 2011 in Uncategorized